The 2004 Heights Alumni Hockey Games once again brought together over 70 former players. The three games were held on December 26, the day before the start of the Heights Holiday Tournament.
Scores, stats and photos are on the right side of this page. More photos can be found here.
Rich Vojticek Memorial Award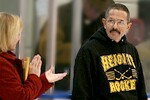 Larry Shaw receives the Rich Vojticek Memorial Award

The Rich Vojticek Memorial Award was presented to Larry Shaw, Cleveland Heights' Director of Parks and Recreation. The award honors Rich Vojticek, the long-time owner of Cleveland Sport Goods Company. It's bestowed as a tribute to those who have displayed dedication, principle and generosity over the years to the Heights Hockey system.
Previous Alumni Games
Game 1: The "Geezers"
Gold
Black

C. Anderson (2)
C. Bleick (2)
S. Regan
R. Rossbach

J. Moore
S. Greenberg
B. Menges
J. Marzocco
Stats
Photos
Game 2: The "Guysers"
Gold
Black

J. Pollock (2)
M. Frew
J. Tekus
K. Guenther

D. Gilliam (2)
Stats
Photos
Game 3: The "Whipper Snappers"
Black
Gold

J. Holmes (2)
J. Lavender
E. Babcox
L. Allen
B. Clark

S. Collins
Stats
Photos