Approximately 75 players participated in the 2003 Heights Alumni Hockey Games. The three games were held on December 26, during the first day of the Heights Holiday Tournament.
Scores, stats and photos are on the right side of this page. More photos can be found here.
Rich Vojticek Memorial Award
This year marks the commencement of a new annual Heights Hockey alumni award. The award is named in memory of Rich Vojticek, long time owner of Cleveland Sport Goods Company, who passed away in August.
Rich was an avid supporter and fan of Heights Hockey. His humor and charity are remembered fondly by many Heights alumni.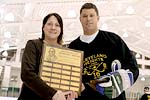 Sue Puletti, daughter of Rich Vojticek, presents the award to Mike Bauman

In his honor, an annual award will be presented at each alumni game. This award will be a tribute to those who have displayed dedication, principle and generosity over the years to the Heights Hockey system. Rich Vojticek will be sorely missed by all those who knew him. His smile lives on in our memory.
Mike Bauman (1985) is the recipient this year.